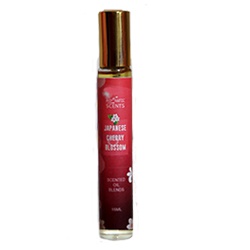 Japanese Cherry Blossom Body Oil
Add to Wishlist
Description
Japanese Cherry Blossom Scented Body Oil Blends
Concentrated Scented Oil Blends, (Unisex), Gold spray Bottle (15ML)

A popular scented oil that is always in demand. ROMANTICSCENTS Japanese Cherry Blossom Body Oil is a soft cherry blossom, sensual white lily and blushing violet petals blended with a hint of warm vanilla. It is 100% alcohol free, our undiluted formula provides a long lasting smell.
Our scented oil blend makes a great fragrance oil for women.
Richly blended golden body oil fragrance
Strong and last long time.
Plastic Gold Spray Bottle Tubing 15ml
Lightweight tubing is easy to carry.
Dimensions: 5H x 0.5W 2.5L
Includes instruction care sheet.
Recommend for Romantic wear.
Comes with a stylish easy to plug in sprayer with a brilliant gold shiny finish for an elegant look. High capacity sprayer allows light or thick oils, to be sprayed out of the bottle without the use of any alcohol. Perfect to wear for any romantic occasion.

What's Trending: View Blog

*Disclaimer*
Our Romantic Scented Oils are not made to be consumed or ingested. You can only wear it on your skin, or use it as a body mist or dilute the scented oil with water and make a burning oil.
Additional information
| | |
| --- | --- |
| Weight | 0.50 oz |
| Dimensions | 3.25 x 2.5 x 6 in |
Related products