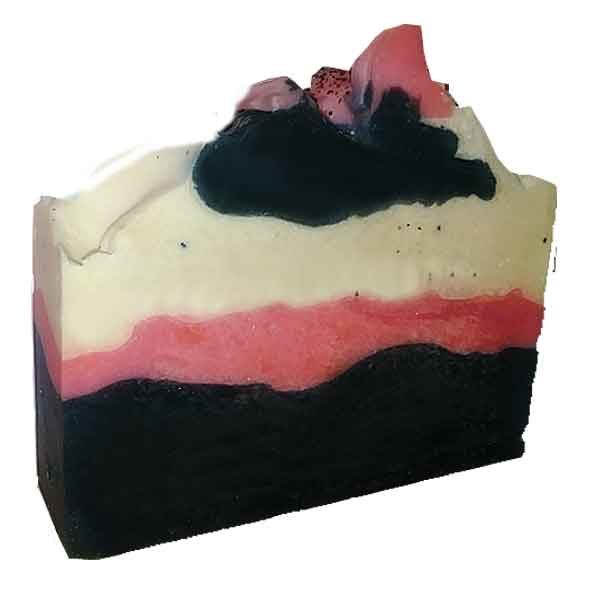 Peppermint Poppy Seed Soap
Buy Now/Pay Now, will guarantee your order will be available to ship. All Pre-orders are First Come First Service basis. While Supplies Last.
In stock (can be backordered)
peppermint poppy seed soap
Description
Our Romantic Peppermint Poppy Seed Soap is a handmade soap with the finest of luxury ingredients. Our Natural Artisan Soap Bar is made with a fragrant fresh minty smell of peppermint.
We use Olive Oil, Coconut Oil and Activated Charcoal which helps draws out toxins. These cleansing benefits are legendary and it is ideal for dry or sensitive skin.
Peppermint Poppy Seed Soap
Our luxury handmade soap has sustainable organic oils and real essential oils.  Our Peppermint Poppy Seed Soap has fragrance.
Added Benefits of Activated Charcoal
Charcoal is known for its ability to absorb and draw out oil from the skin. Its ability to absorb oil and dirt from pores leaves skin feeling balance and refreshed.
Our soap recipes are gentle, and are carefully formulated and tested by me, friends and family. Due to the high fragrance/essential oil content in our soaps, we do not recommend children under 6 years of age to use the soap.
When you place your order with us. We will send you a handmade bar of bath soap. The bath soaps come in all sizes, and ready to ship out. So we do not know, which size you will receive.
Varying Sizes: 4 to 6 ounces
See What's Trending: View Blog
Ingredients:
Olea Europaea (Olive), Butyrospermum Parkii (Shea Butter), Cocos Nucifera (Coconut), Elaeis Guineensis (Palm), Theobroma Cacao (Cocoa) Seed Butter, Poppy Seeds, Oryza Sativa (Rice) Bran, Maltodextrin (Honey), Essential Oils, Goats Milk, Titanium Dixode, Activated Charcoal, Plant-Based Colorants.
Disclaimer: 
Please do not use if you have broken, cracked or irritated skin, or allergic conditions.
Keep away from eyes.
External Use Only.
As required by the FDA, we do not make any claims regarding the cosmetic or health related properties of our products.
Follow you practitioner's advice.
These statements have not been evaluated by the Food and Drug Administration (FDA). These products are not meant to diagnose' treat or cure any disease or medical condition. Please consult your doctor before starting any exercise or nutritional supplement program or before using these or any product during pregnancy or if you have a serious medical condition.
Additional information
| | |
| --- | --- |
| Weight | 5.00 oz |
| Dimensions | 3.50 × 1.25 × 2.50 in |
Our luxury handmade soaps are made with sweet, loving and gentle care. We're sure you love our products! So Give us a Try!

Made to Order. Tested and Shared with Love ♥ Handmade in Texas:

Botanical Extracts
No GMO
Free from Parabens
Free from Formaldehyde Releasing Preservatives
Free from Phthalates
Free from Detergents
No Mineral Oil
Eco-Friendly
No Animal Testing
Small Batch Certified