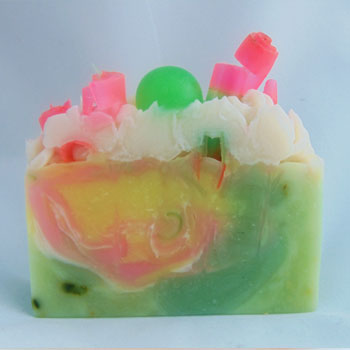 Cucumber Melon Soap 🍉
Buy Now/Pay Now, will guarantee your order will be available to ship. All orders are First Come First Serve basis. While Supplies Last.
Out of stock - Join the waitlist to be emailed when this product becomes available
Add to Wishlist
Description
Our Romantic Cucumber Melon Shea Butter Handmade Soap is made with the finest of ingredients. Cucumber Melon Soap is a cold process soap. It is inspired by the sweet smell of spring and summer. This fruity soap is a favorite all year round.

Lightly pureed with cucumber juice and real cucumbers. Our Natural Artisan Soap is made from Olive Oil, Coconut Oil, and Shea Butter. The moisturizing benefits of are legendary and it is ideal for dry or sensitive skin.

The romantic soap is lightly scented with cucumber melon fragrance oil. Our natural soap helps make the skin feel smoother and reduces roughness.
Cucumber Melon Soap
Our romantic scents soap recipes are carefully formulated as cold process soap and tested by me, friends and family. When you place your order with us. We will send you handmade-soap. The soaps come in all sizes, and ready to ship out. So we do not know, which size you will receive.

Varying Sizes: 3.5 to 5 oz.
See Whats Trending: View Blog

Ingredients:
Olive Oil, Rice Bran, Shea Butter, Coconut Oil, Palm, Soybean, Vitamin E, Distilled Water, Cucumber Extracts, Sodium Lactate, Sodium Hydroxide, Fragrance Blends, Titanium Dixode and Mica for Colors.

Disclaimer: As required by the FDA, we do not make any claims regarding the cosmetic or health related properties of our soaps.

Related products